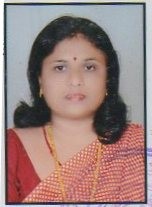 PROF PRATIBHA UTTAMRAO GADWE (DATIR)
Designation –Assistant Professor
Qualification –M.A.(Pol.Sci.)M.Phil.Bed
Date of birth-22-03-73
Teaching Experience-19 Years.
She has participated in 39 Conferences and presented 18 research papers at  different level 0 4 papers presented in International Conference,06 in National level 04 in State level Conference ,0 3 Papers published in International Multidisciplinary Research Journal and 01 chapter published in Edited book. She has Submitted her PhD thesis on Topic-'Contribution of State Commission for Women in protection and Conservation of Women Rights,in July 2017.She also completed 02 Refreshers and  02 Orientation Course sponsored by UGC. and arranged  by Staff Academic College of Nagpur,India .She has worked as Examiner and Moderator in UG. Examination of Political Science conducted by RTM. Nagpur University Nagpur. She also worked as MPSC. Paper Setter.
She also arranged one day State Level Seminar in her College on the topic "Panchayati Raj System –Women Empowerment."
ABOUT DEPARTMENT OF POLITICAL SCIENCE
Since from establishment of College (i'e from1994 ) Department of Political Science Strongly & actively working to achieve its Aims, Objectives and Goals and also gets Success in it. Department is working to improve the values of Social activism in Students, to make devotion and improvement of Love towards our Nation in the Students. Also awake the Students about Political Socialization, faith in Indian Constitution & induce values of Constitution in Students mind like Equality, Liberty, Justice, Fraternity & awaking about our Rights and duties given to us by our Constitution. Department is also working to Motivate Students for Competitive Examination in Collaboration with Courier Guidance & Counselling Cell of College. For Enrichment of Course Content & to induce all Course Content in Students' mind, Department apply all Traditional & Modern Tools & Techniques of Teaching like Lecture Method, Question Answer Methods, group discussion, using ICT , PPT teaching for Students. Department also arrange Class wise Seminar, Guest Lecture & Extension Programme like rally, Educational Visit, Study Tours which are related to Course content & Syllabus of the Subject, which makes Subject easy for the Students, Special Classes devoted for the improvement of the Students. Bridge Courses are also arranged for Newly coming Students admitted in B.A. I Year.